Posted on
By Esmeralda Lambert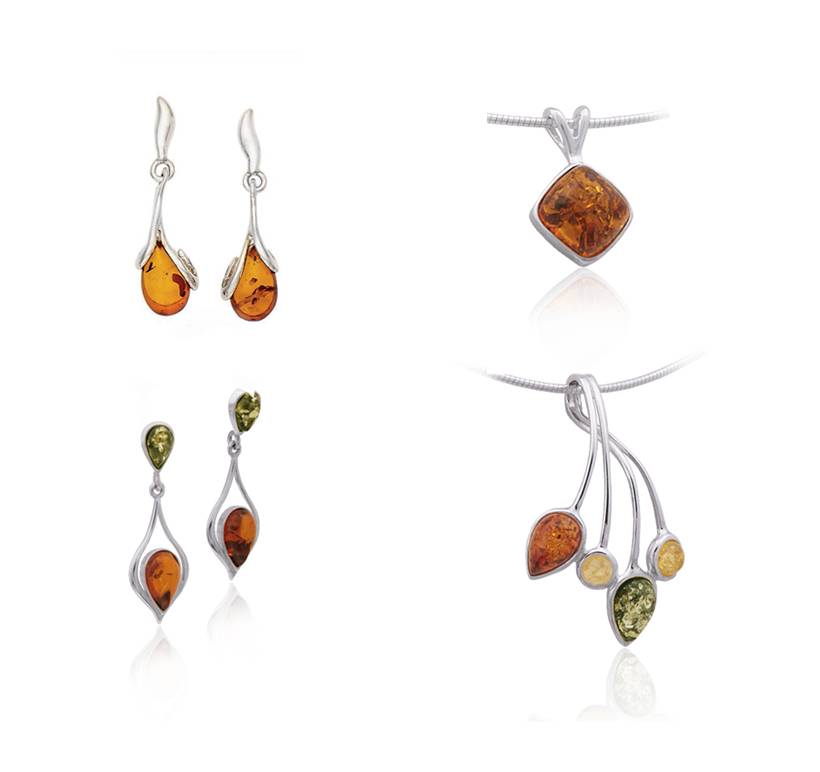 NEW ARTISAN HANDCRAFTED ARRIVALS: Multicolored Baltic Amber Set in Sterling Silver Artisan Handcrafted in Poland
I was in NYC a few weeks ago at the NY NOW jewelry trade show looking for new handmade artisan designers to bring into my Esmeralda store in Harvard Square, Cambridge, MA. I was not looking for an Amber designer as I had already launched my own collection of Dominican Amber handcrafted in sterling silver last year. However, as with most of my trade show treasure hunting, you never know what you are going to find until you walk the halls and get blown away.
This is what happened when I walked by Diane's booth. I immediately recognized the beautiful shades of honey amber from red, yellow, brown tones that I was familiar with in my line. However, her display made me stop in my tracks for 3 reasons: 1) her sterling silver designs were so unique and exhibited a true artisan handcrafted refined attention to detail, 2) her colors included gorgeous greens and multicolor amber combinations that I have not worked with, and 3) her prices fit perfectly into the value that I want to bring to my customers who appreciate artisan quality at an affordable price.

I am testing various simple single color studs, multicolored earrings, as well as pendants and statement necklaces that are point for fall color trends. The warm color grades blend well with any skin tone, hair and eye color and are a simple classic look for any age and fashion style.
I can see these are great daily use gifts and likely to see a few gentlemen buying necklace and sets as anniversary or birthday presents. Of course a no reason date night surprise with dinner and these to dress up is a great way to keep things warm!

Amber (or ambar) is not actually a crystal or stone, it is a fossilized resin. It has beautiful sunny colors ranging from fluorescent yellow-orange-brown tones, although a rare blue tone exists in the Dominican. It often has inclusions from the fossilization process, which add character and uniqueness to each piece. My husband Matt says, Amber is similar to New England maple syrup as it comes in light, medium, dark grade colors. It is pretty true as they are both from trees!

In alternative healing, Amber is believed to have purifying properties and protects from and absorbs negative energies and transforms them into positive energy. Esmeralda can make no medical claims, but sharing for those who follow crystal arts and energy practices.

To see more of the new Baltic Amber collection or my Dominican Amber collection shop online at www.EsmeraldaStore.com or in my flagship store ESMERALDA @ 54 Church, Street, Harvard Square, Cambridge, MA.
Esmeralda came to the US in 2010 and graduated at the Babson MBA program where she met her now husband Matt. They cofounded the ESMERALDA LAMBERT business and have grown Esmeralda's original signature handwoven statement jewelry style to be carried in over 40 stores in 4 states while expanding to a team of 7 artisan women. They recently opened their 1st retail flagship store, ESMERALDA, in the heart of Harvard Square, Cambridge, MA where she supports not only her line, but also a hand picked selection of 15+ independent family business designers from the US and 9 countries who meet the criteria of handmade with social responsibility. As the company grows they continue to shed light on unique ethically handmade fashion while supporting more artisans and family businesses in the Dominican, the USA and around the world.